Climate News
Montana NRCS – January 1/2013: Mountain Snowpack Set for Normal Water Year
1/8/2013
December 2012 treated Montana generously, providing above average snowfall across the entire state, according to snow survey data from the USDA Natural Resources Conservation Service …(more)
El Ninos Are Highly Unpredictable
1/3/2013
El Niño events are not as predictable as scientists thought. The frequency and strength of the ocean-warming climate phenomenon were more variable during the 20th century than, on average, during the preceding 7000 years …(more)
Western Governors Emphasize Need for Short - and Long-term Strategies, Preparedness at National Drought Forum
12/13/2012
Speaking at the National Drought Forum held here today, Kansas Gov. Sam Brownback emphasized the critical importance of water resources in the arid West and actions states have taken or that are needed to be adequately prepared. …(more)
November Climate CIRCulator Newsletter
11/9/2012
Rising temperature and earlier and faster melting of reduced mountain snowpack have already produced a shift in spring peak flow and have reduced low flow during summer and fall in western North American streams. …(more)
NOAA: U.S. Temperature and Precipitation in October Were Near Average
10/24/2012
According to NOAA scientists, the average temperature for the contiguous U.S. during October was 53.9°F, just 0.3°F below the long-term average, ending a 16-month streak of above-average temperatures for the lower 48 that began in June 2011. …(more)
PNW Climate CIRCulator
10/24/2012
Pacific Northwest Climate Science Conference – The third annual PNW Climate Science Conference, held October 1-2 in Boise, ID, brought together scientists of many types, resource managers, educators, students, and others for two days of presentations and discussions..…(more)
Wyoming Goes Through 3rd Driest Water Year
10/18/2012
CHEYENNE, Wyoming – Wyoming just completed its third-driest water year in 118 years. In addition, the state saw its driest March-through-September period ever.…(more)
Arctic Summer Wind Shift Could Affect U.S./European Weather
11/8/2012
Sandy breaks records in East while sever drought continues in West.
According to NOAA scientists, the average temperature for the contiguous U.S. during October was 53.9°F, 0.3°F below the long-term average, ending a 16-month streak of above-average temperatures for the lower 48 that began in June 2011.…(more)
Montana Fishing Restrictions Still In Place, But Officials Are 'Cautiously Optimistic'
08/06/2012
HELENA, Mont. – Fishing restrictions due to drought will remain in place on three Montana trout streams for the foreseeable future, but state fisheries officials are cautiously optimistic that they won't need to make any other closures.
Fish, Wildlife and Parks officials last month imposed "hoot-owl" restrictions on the Smith, Dearborn and Sun rivers, meaning that fishing isn't allowed on those central Montana streams in the afternoons and evenings, when the water temperatures are too high.
Trout prefer temperatures in the mid-50s, and when it rises, oxygen becomes depleted and the fish become stressed. FWP closes streams to fishing when water temperatures reach at least 73 degrees for three consecutive days. Temperatures above the mid-70s can kill trout…(more)
---
Farmers' Ability to Manage Soil is Key as Climate Fluctuates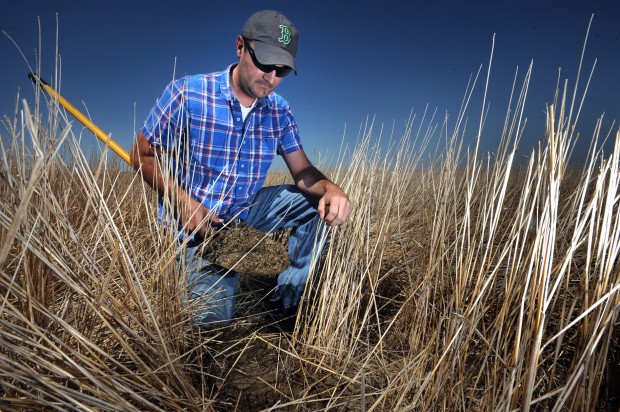 Broadview-area farmer Mitch Auer examines a spade full of soil from a wheat field he harvested last year to test the moisture content of the soil. Using a new technique of harvesting only the tops of the plant with a stripper, cutting just below the wheat head, the remainder of the plant holds moisture in the soil.
August 05, 2012
By Tom Lutey
BROADVIEW – On an afternoon when the air presses against his face like a hot iron, Mitch Auer grabs a shovel from his pickup and lumbers into an old wheat stand that hasn't seen 3 inches of moisture this year.
It's the last day in July and the National Weather Service has just confirmed that Yellowstone County is experiencing one of its hottest summers ever. A couple of weeks earlier, the same meteorologists were declaring the first six months of the 2012 the county's driest on record. The misery in farm country is palpable across the southern third of Montana, with multiple counties seeking disaster declarations for drought, fire, or both, which makes what Auer unearths remarkable.
"There it is," the young farmer said, moist, cool loam just beneath the surface. From the shovel, Auer takes a handful of earth, squeezing it until it bears the creases of his palm. "That was 4 inches maybe, just down a little bit."
A meat thermometer pulled from Auer's pocket and thrust into the ground puts the temperature at 78 degrees, this as the warmth of the air creeps into the high 90s. Using every trick he can conjure, Auer is surviving in a brutal climate, which is what farm economists say producers will have to do to survive the next 18 years… (more)
---
Droughts and More
Bathtub rings on Elephant Butte, a major reservoir on the Rio Grande. As of June 30, 2012, the reservoir was at only 12 percent of capacity.(Photo by Zack Guido.)
Soaring temperatures and scant rain have besieged the country in recent months, prompting 26 U.S. states, including New Mexico and Arizona, to declare a drought emergency. In the Midwest, the lethal combination of high temperatures and dry conditions has wreaked havoc on a once-promising corn harvest.
For New Mexico, two consecutive years of scarce winter snows in the Rio Grande headwaters have caused paltry irrigation allotments from the Elephant Butte Reservoir, which supports more than 90,000 acres of farmland. This year, the allocation is only 10 inches per acre, down from 36 inches when lake levels are higher. Many farmers in New Mexico also face reduced crop yields and increased production costs… (more)
---
U.S. Appeals Court Decision Upholds Greenhouse Gas Assertion of EPA
A U.S. federal appeals court has delivered a decisive defeat to states and industry groups that had challenged the scientific and legal underpinnings of the Environmental Protection Agency's (EPA's) decision to regulate greenhouse gases as pollutants under the federal Clean Air Act.
In a unanimous decision, a three-judge panel ruled that EPA had relied on sound science in deciding that greenhouse gases potentially "endangered" public health and welfare. It also said that the agency had followed proper procedures in developing a series of regulations aimed at curbing emissions from cars and industrial facilities…(more)
---
May Weather Helps Mountain Snowpack
Posted: Wednesday, June 13, 2012 12:15 am
LAURA LUNDQUIST, Chronicle Staff Writer
Cool May weather helped retain snowpack levels in Montana, but levels in southern river basins such as the Gallatin remained below normal, foretelling a slightly dry summer.
As of June 1, snowpack levels in the mountains of the Gallatin River basin registered 81 percent of average, according to the Natural Resources and Conservation Service's monthly water outlook released last week… (more)
---
Wyoming Grasshoppers Emerging Earlier Than Usual
May 21, 2012
LANDER, Wyo. – Rancher Scott Fluer hoped there wouldn't be a prevalence of grasshoppers this season. It was supposed to be the end of their cyclical boom, and the insects had thrived the past two years. Instead, weeks ahead of schedule, Fluer started seeing grasshoppers on his property north of Lander.
"As dry as the weather is we're having, it's shaping up to not be a very good year," he said. "It's rather scary."…(more)
---
April Global Temperatures are Fifth Warmest
La Niña ends; neutral conditions return over the equatorial Pacific Ocean
The globally-averaged temperature for April marked the fifth warmest April since record keeping began in 1880. April 2012 also marked the largest departure from the 20th century average temperature in more than a year.

April 2012 Selected Climate Anomalies and Events
La Niña, typically associated with cooler global temperatures, dissipated and transitioned to neutral conditions during April as sea surface temperatures continued to warm across the equatorial Pacific Ocean. According to NOAA's Climate Prediction Center, neutral conditions are expected to continue through the Northern Hemisphere's summer…(more)
---
U.S. Temperatures for April Third Warmest on Record
Past 12 months and first third of the year were warmest nation has experienced
Several warm periods across the contiguous U.S. during April brought the national average temperature to 55°F, 3.6°F above average, marking the third warmest April on record. These temperatures, when added with the first quarter and previous 11 months, calculate to the warmest year-to-date and 12-month periods since recordkeeping began in 1895.
The 12-month period of May 2011-April 2012 has a nationally-averaged temperature 2.8°F above the 1901-2000 long-term average, while the January-April 2012 months were 45.4°F, 5.4°F above the long-term average…(more)
---
Governor Schweitzer Releases 2012 Drought Report
May 11, 2012
Sarah Elliott 406-444-9725
Jayson O'Neill 406-444-9844
(HELENA) -
Officials of the Governor's Drought Advisory Committee are calling for near normal water supply and moisture conditions statewide through mid-July. Lieutenant Governor John Bohlinger serves as the Chair of the Governor's Drought Advisory Committee.
"We had fairly good precipitation this year," said Governor Brian Schweitzer. "But as a farmer and soil scientist I always pray we get some more good moisture this spring. In Montana, you always have to be prepared as things can dry out quick if we have a hot summer …" (
more
)
---
Record-setting Temperatures Decrease Snowpack Across Majority of Montana
May 7, 2012
For More Information:
Brian Domonkos, 406-587-6991
Bozeman – Cooler temperatures and average snowfall across Montana during the first half of April continued to build snowpack in most areas, but April's second-half warming trend created substantial snow melt at most elevations causing rivers and streams to rise, according to May 1 snow survey data released by the USDA Natural Resources Conservation Service (NRCS). "The majority of our SNOTEL sites reached their maximum snow water equivalent during the first two weeks of April," said Brian Domonkos, NRCS water supply specialist for Montana.
Although snowpack is actively melting, Domonkos said a few northwestern basins continue to be above average. The Kootenai, St. Mary's and Milk, Flathead and Lower Clark Fork River basins continue to be at or slightly above average. Most other river basins have seen a decrease in average over the month and are slightly below average on May 1…(more)
---
Spring 2012 Climate Outlook Favors Warm, Dry Conditions in South
According to NOAA's 2012 Spring Outlook, odds are that dry conditions and above-average temperatures will persist in much of the South, prolonging the historical drought event in 2011 that resulted in significant economic impacts. Meanwhile, last year's most devastating flood events are unlikely to repeat due to limited winter snowfall and mountain snowpack.
The maps above show probabilities of well above or well below normal temperature and precipitation in the continental United States for April – June 2012, according to the official forecast issued by the Climate Prediction Center on March 15… (more)
---
Dry, Warm Spring No Help for Southern Drought
Since late 2010, much of the southernmost United States has been suffering through drought. When conditions reached their peak last summer, the resulting impacts were devastating, shrinking water supplies for cattle and crops, and contributing to huge agricultural losses. This spring, drought continues to plague large portions of the South… (more)
---
NOAA: U.S. Records Warmest March; More Than 15,000 Warm Temperature Records Broken
First quarter of 2012 also warmest on record; early March tornado outbreak is year's first "billion dollar disaster"
Record and near-record breaking temperatures dominated the eastern two-thirds of the nation and contributed to the warmest March on record for the contiguous United States, a record that dates back to 1895. More than 15,000 warm temperature records were broken during the month.
The average temperature of 51.1°F was 8.6 degrees above the 20th century average for March and 0.5°F warmer than the previous warmest March in 1910. Of the more than 1,400 months (117+ years) that have passed since the U.S. climate record began, only one month, January 2006, has seen a larger departure from its average temperature than March 2012…(more)
---
NOAA: Global Temperatures in March Make Coolest March Since 1999 Even with U.S.' Record Breaking Warmth
The average global temperature for March 2012 made it the coolest March since 1999, yet the 16th warmest since record keeping began in 1880. Arctic sea ice extent during the month was below average but was the largest extent since 2008 and one of the largest March extents of the past decade. Additionally, La Niña conditions continued to weaken during March as temperatures across the equatorial Pacific Ocean warmed during the last two months. According to NOAA's Climate Prediction Center, La Niña is expected to dissipate by the end of April 2012. (more)
---
April 1, 2012, Statewide Snowpack Rises Above Average
April 6, 2012
For More Information:
Brian Domonkos, 406-587-6991
Bozeman – March was a variable, yet snowy month around the state of Montana, increasing the statewide snowpack for the third month in a row, according to snow survey data from the USDA Natural Resources Conservation Service (NRCS).
"Storm patterns over the last month have favored the western and northern parts of the state with the Kootenai, Lower Clark Fork and Flathead River basins seeing substantial increases in snow water," said Brian Domonkos, NRCS water supply specialist. Most of Montana saw slightly above average snowfall for the month, helping the basins around the state to stay at stay at or slightly above average and allowed southwest Montana to continue recovering from the dry weather and below average snowfall experienced through Jan. 1.
However, some basins in Montana continue to be below average. The Milk River Basin continued to be considerably below average through the month of March, with little improvement from the storms that hit the rest of the state. The Wind, Big Horn, Powder, Tongue and Lower Yellowstone River basins in Wyoming have made the transition to a spring snowpack with the unseasonably warm temperatures, dropping significantly from the high percentages of average on March 1…(more)
---
California dog driver Tony Phillips poses with his new sled near Mammoth Mountain. In winter 2011 this spot was covered by several feet of snow; in 2012 it is bare dirt. [video]
What Happened to All the Snow?
Jan. 19, 2012: Winter seems to have been on hold this year in some parts of the United States. Snowfall has been scarce so far in places that were overwhelmed with the white stuff by the same time last year.
Here's a prime example. "The Mammoth Mountain ski resort in the Sierras of California got more than 200 inches of snow last December," says NASA climatologist Bill Patzert of the Jet Propulsion Laboratory. "This December they got less than 10 inches."
Temperatures have flip-flopped too. There were 583 new heat records broken in the first five days of January in the US.
"It's 86 degrees in Los Angeles today [Wednesday, January 4th]," says Patzert. "Everyone thinks it's July! In fact, it's warmer today in LA than it was on July 4th last year. And it's been in the 60s and 70 even in the Dakotas lately…"(more)
---
NASA Sees Repeating La Niña Hitting its Peak
La Niña, "the diva of drought," is peaking, increasing the odds that the Pacific Northwest will have more stormy weather this winter and spring, while the southwestern and southern United States will be dry.
Sea surface height data from NASA's Jason-1 and -2 satellites show that the milder repeat of last year's strong La Niña has recently intensified, as seen in this latest Jason-2 image of the Pacific Ocean.
The image is based on the average of 10 days of data centered on Jan. 8, 2012. It depicts places where the Pacific sea surface height is higher than normal (due to warm water) as yellow and red, while places where the sea surface is lower than normal (due to cool water) are shown in blues and purples. Green indicates near-normal conditions. The height of the sea surface over a given area is an indicator of ocean temperature and other factors that influence climate.
This is the second consecutive year that the Jason altimetric satellites have measured lower-than-normal sea surface heights in the equatorial Pacific and unusually high sea surface heights in the western Pacific… (more)
---
Genetically Engineered Bacteria Could Help Fight Climate Change
As humans warm the planet by releasing carbon dioxide into the atmosphere, some researchers believe that capturing CO2 and trapping it in buried rocks could lower the risk of catastrophic climate change. Now a team of researchers has shown that bacteria can help the process along. They can even be genetically modified to trap CO2 faster, keeping it underground for millions of years.
When CO2 is pumped into underground porous rocks, it combines with metal ions in the salty water that fills the rock pores and mineralizes into mineral carbonates, such as calcium carbonate (CaCO3). The process can take thousands of years. To see if they could speed things up, biochemist Jenny Cappuccio and colleagues at the Lawrence Berkeley National Laboratory's Center for Nanoscale Control of Geologic CO2 put a diverse mix of common bacterial species in a calcium chloride solution in the lab and then pumped in CO2. They found that calcium carbonate formed faster in areas where the bacteria were living than it did in sterile solutions. The CaCO3 also had a different mineral structure when the bacteria were around. It tended to grow into crystals of white calcite instead of amorphous black lumps (see picture). The bacteria enhanced the formation of calcite even when they were just lying around, not growing or multiplying. (more)
Widespread Drought Lies Ahead for Britain this Summer
February 20, 2012
LONDON – Britain on Monday declared a drought in the southeast and warned that the rest of the country faced widespread water shortages this summer, with some supplies at their lowest for a quarter of a century.
Despite Britain's reputation as having a rainy climate and the fact that it is still winter in the northern hemisphere, the government hosted a "drought summit" with water companies, farmers and wildlife groups.
Environment Minister Caroline Spelman said southeastern England had now joined the Anglia region in eastern England and other parts of the country in drought.
"More areas are likely to be affected as we continue to experience a prolonged period of very low rainfall," Spelman said. "We are asking for the help of everyone by urging them to use less water and to start now…" (more)
---
NOAA: 2011 a Year of Climate Extremes in the United States

NOAA announces two additional severe weather events reached $1 billion damage threshold, raising 2011's billion-dollar disaster count from 12 to 14 events
January 19, 2012
Selected Annual Climate Records for 2011 - Green dots show the wettest, yellow dots the driest, red dots the warmest and blue dots the coolest records.
According to NOAA scientists, 2011 was a record-breaking year for climate extremes, as much of the United States faced historic levels of heat, precipitation, flooding and severe weather, while La Niña events at both ends of the year impacted weather patterns at home and around the world.
NOAA's annual analysis of U.S. and global conditions, conducted by scientists at NOAA's National Climatic Data Center, reports that the average temperature for the contiguous U.S. was 53.8 degrees F, 1.0 degree F above the 20th century average, making it the 23rd warmest year on record. Precipitation across the nation averaged near normal, masking record-breaking extremes in both drought and precipitation.

On a global scale, La Niña events helped keep the average global temperature below recent trends. As a result, 2011 tied with 1997 for the 11th warmest year on record. It was the second coolest year of the 21st century to date, and tied with the second warmest year of the 20th century… (more)
Ocean Indicators Report: Persistent 'Negative Pacific Decadal Oscillation' Positive News For Salmon
February 03, 2012
Climatic and accompanying ocean conditions that have remained "persistently negative," since late spring/early summer 2010, could bode well for Columbia River basin and other salmon populations that return from the Pacific to spawn next year, the year after, and possibly beyond.
"I think we're going to have a heck of a year" if current climatic conditions persist into the spring when young salmon and steelhead exit the Columbia River to rear for a year or two or more in saltwater, said Bill Peterson, NOAA Fisheries senior scientist and oceanographer…(more)
(Credit: NOAA)
January 2012 the Fourth Warmest for the Contiguous United States

Locations across Alaska record cold for the month
During January, warmer-than-average conditions enveloped most of the contiguous United States, with widespread below-average precipitation. The overall weather pattern for the month was reflected in the lack of snow for much of the Northern Plains, Midwest, and Northeast. This scenario was in stark contrast to Alaska where several towns had their coldest January on record.
The average contiguous U.S. temperature in January was 36.3 degrees F, 5.5 degrees F above the 1901-2000 long-term average—the fourth warmest January on record, and the warmest since 2006. Precipitation, averaged across the nation, was 1.85 inches. This was 0.37 inch below the long-term average, with variability between regions…(more)
---
El Nino and the Spread of Disease
A flock of red-winged blackbirds settles in a Kansas field. Scientists believe the changed migration paths of birds, caused by El Niño, can result in new flu strains. Photo courtesy of Flickr.
Certain disease outbreaks, including some of the worst pandemics of the 20th century, are linked to weather patterns in the Pacific Ocean, according to new research. Scientists said tracking these climate changes can help officials anticipate and plan for surges in illnesses.
The El Niño-Southern Oscillation (ENSO) cycle causes ripples through the global climate, changing rainfall and air currents. These shifts, in turn, can cause disease carriers to interact in new ways, creating novel pathogens. Weather changes can also increase the number of people exposed to a disease, increasing the likelihood of an outbreak.
El Niño is the warm phase of the ENSO, characterized by unusually high sea surface temperatures along the equator in the Pacific, lasting between nine months and two years, according to the National Oceanic and Atmospheric Administration.
The temperature changes seem small -- usually 0.5 to 1 degree Celsius -- but they can alter rainfall patterns all over the world. "It's a shift in the large-scale dynamics of the tropical atmosphere," said Jon Gottschalck, head of forecast operations at NOAA's Climate Prediction Center. "It's not regular, and it's not predictable. They call it an oscillation, but it's an aperiodic oscillation."
After three to five years, the ENSO usually cycles to La Niña, when sea surface temperatures reach a low point. Gottschalck said this leads to more rainfall over Indonesia while weakening jet streams -- fast-moving, high-altitude air currents -- and pushing them further north. This leads to drier conditions in the southern United States…(more)
---
NOAA Gulfstream Jet Assigned to Monitor Pacific for Winter Storms that Impact North America
January 12, 2012
The Gulfstream IV-SP (G-IV) is a high altitude, high speed, twin turbofan jet aircraft acquired by NOAA in 1996. High Resolution (Credit: NOAA)
A highly specialized NOAA jet typically used to study hurricanes will fly over the north Pacific Ocean during the next two months gathering data that will enhance winter storm forecasts for the entire North American continent.
From its temporary base at U.S. Coast Guard Air Station Barbers Point in Honolulu, NOAA's high-altitude, twin-engine Gulfstream IV-SP aircraft will deploy special sensors to collect information where the jet stream and moisture from the ocean interact and breed potentially powerful winter storms that impact North America several days later.
Data on wind speed and direction, pressure, temperature and humidity from the sensors will be monitored and quality checked by meteorologists aboard the aircraft. NOAA then will use the information to predict the location and intensity of high winds, destructive surf conditions, severe weather and flooding rainfall caused by winter storms…(more)
---
Montana Winter Dry Spell Broken by Big Snowfall Event
John S. Adams and Kimball Bennion
January 19, 2012
Snow piled up around Great Falls, Helena and much of northcentral Montana on Thursday as a winter storm accompanied by subzero temperatures continued to hammer much of the Rocky Mountain West.
Motorists in Great Falls were having a hard time adjusting to the snowy conditions. As of Thursday evening, Great Falls Police had responded to 33 accident reports since 1 p.m. the previous afternoon. As the temperature fell Thursday, the rush of drivers going home from work encountered slick roads. Four of those accidents were reported as injury accidents, but none appeared to be serious, police said.
Earlier on Thursday, a traffic light on Wire Mill Road in Black Eagle was temporarily disabled after a driver slid into it. Claudia Rapkoch, spokeswoman for NorthWestern Energy, said the collision did not disable power for any customers… (more)
---
Governor: Missouri River Snowpack Below Normal
By Matt Gouras
January 13, 2012
Montana Gov. Brian Schweitzer said Thursday that snowpack in the Missouri River Basin headwaters is below normal so far this winter, and far below levels seen last year when heavy snowfall in the mountains was a big factor in floods downstream.
So far, snowpack in the Missouri River headwaters is only 69 percent of normal, compared with 112 percent of normal at this time last year. But the governor pointed out early results can change dramatically since the key time for accumulation doesn't come until February, March and April.
Overall, snowpack for Montana's major river basins is about 80 percent of normal…(more)
---
Global Warming May Trigger Winter Cooling
It seems counterintuitive, even ironic, that global warming could cause some regions to experience colder conditions. But a new study explains the Rube Goldberg-machine of climatic processes that can link warmer-than-average summers to harsh winter weather in some parts of the Northern Hemisphere.
In general, global average temperatures have been rising since the late 1800s, but the most rapid warming has occurred in the past 40 years. And average temperatures in the Arctic have been rising at nearly twice the global rate, says Judah Cohen, a climate modeler at the consulting firm Atmospheric and Environmental Research in Lexington, Massachusetts. Despite that trend, winters in the Northern Hemisphere have grown colder and more extreme in southern Canada, the eastern United States, and much of northern Eurasia, with England's record-setting cold spell in December 2010 as a case in point…(more)
---
La Nina, Are You Coming?
By EVE BYRON
January 4, 2012
Unseasonably warm weather may be prompting people to wonder where winter went, but experts say it could be just around the corner.
Don Emanuel, a meteorologist with the National Weather Service in Great Falls, said that while temperatures are above normal for this time of year — December was about 4 degrees above the mean temperature of almost 22 degrees — forecasters are still calling for cold and snowy weather. It just won't be here this week.
"We should be above normal with fairly dry conditions and mild temperatures for the next week," Emanuel said on Tuesday. "Then it looks like it might be starting to cool off and at least get back to more normal conditions… (more)
---
Pressure System Muddles La Niña Rain Outlook
By Matt Weiser
Dec. 14, 2011
La Niña is back in control of California's weather, and like last winter, her temper seems to be flaring.First it was strafing November winds. Then persistent December frost. Now half the state is dry – not a drop of rain in Sacramento this month, and Lake Tahoe ski resorts are yearning for snow. And at the other end, Los Angeles is breaking rainfall records (more…)
---
Missouri River Flood Drama Likely Took Direction from La Niña
The Missouri is the continent's longest river. It trickles out of the mountains in Montana and flows east and south toward the Mississippi. Its waters are essential to the basin's farmers and ranchers, who raise 46% of the wheat, 22% of the corn, and 34% of the cattle in the United States.
The river is also home to a system of dams, levees, and spillways meant to insulate people living in the basin from the river's extremes. But in 2011, they couldn't keep the Missouri completely under control.
Beginning in late spring and continuing through the summer, floodwater spilled over the Missouri's banks into fields and towns, reaching up to five miles from the river's normal edge. The waters finally started to recede this fall, giving the basin's residents their first glimpse at the $2 billion or more in damages from this slow-moving catastrophe… (more)
---
Global Temperatures for October 2011 Warmest on Record

High Resolution (Credit: NOAA)
Global surface temperature Anomalies - October 2011.
November 15, 2011
The globe experienced its eighth warmest October since record keeping began in 1880. Arctic sea ice extent was the second smallest extent on record for October at 23.5 percent below average. Additionally, La Niña conditions strengthened during October 2011. According to NOAA's Climate Prediction Center, La Niña is expected to continue through the Northern Hemisphere winter.
This monthly analysis from NOAA's National Climatic Data Center is part of the suite of climate services NOAA provides government, business and community leaders so they can make informed decisions… (more)
---
Fall Rains Give Drought-stricken Texas a Much Needed Break
October 20, 2011
COLLEGE STATION – Nearly all of the state received rain during the last two weeks, but even where the rains were substantial, the drought was far from over, according to Texas AgriLife Extension Service reports.
Since early October, the Rolling Plains, Central and North regions received the most rain, with accumulations of 6 inches and more, with 2 to 3 inches common, according to the National Weather Service's daily precipitation analysis. San Antonio and surrounding counties received 2 inches or more. With a few exceptions, the rest of the state received from a trace to about 2 inches… (more)
---
La Nina, Round Two?
La Nina patterns begin with cold sea-surface waters in the Pacific, which change global pressure gradients, bringing cold, wet winters to the northwestern U.S. Illustration courtesy of the National Weather Service
by DEB HILL News-Argus Staff Writer
October 5, 2011
If you liked last winter's weather, you'll love this news: La Niña, the main factor responsible for the cold and snow, is back. According to the National Weather Service's Climate Prediction Center, La Niña conditions have returned and are expected to gradually strengthen and continue throughout the winter months.
The National Oceanic and Atmospheric Administration defines a La Niña as a period of cooler-than-normal sea-surface temperatures in the central and eastern tropical Pacific ocean, caused when cold water from deep in the ocean wells up to the surface…(more)
---
Sierra Nevada, Cascades to Take a Turn at Snow
By Alex Sosnowski, Expert Senior Meteorologist
Oct 4, 2011
In this photo taken Monday, March 28, 2011, the Pioneer Memorial, dedicated to the Donner Party, is seen behind snow cleared from the parking lot at the Donner Memorial State Park at Truckee, Calif. The actual snow depth comes to half the height of the 22 foot tall shaft the statues are placed on. (AP Photo/Rich Pedroncelli)
The Appalachians in the East got their taste of snow this passed weekend, now it is the Sierra Nevada and Cascades in the West to have a turn this week.
The high country in the Sierra Nevada could receive from 1 to 2 feet of the white stuff this week as a series of storms rolls in from the Pacific Ocean.
Enough snow and low temperatures can occur at Donner Pass and around Lake Tahoe to make for slush on the roads and weigh down trees.
The elevation of Donner Pass along I-80 is around 7,200 feet.
According to Western Weather Expert Ken Clark, "Snow levels in that part of the Sierra Nevada area will drop to around 5,000 feet."… (more)
---
Potential for Severe Thunderstorm Outbreak This Week
By Heather Buchman, Meteorologist
Oct 4, 2011
While there can be a few isolated heavy thunderstorms in the Southwest and Intermountain West into Tuesday, the threat of severe thunderstorms remains extremely low across the U.S. early this week. Later in the week, however, thunderstorms could get a bit more feisty on the Plains.
A potent storm set to plow into the West Coastat midweek will be the system to watch for a possible severe outbreak later in the week on the central and southern Plains.
This cold storm system in the upper levels of the atmosphere will be moving over warm, humid air across the Plains and creating a favorable environment for severe thunderstorm development… (more)
---
National Climate Service Proposal to be Investigated by U.S. House
September 22, 2011
Daniel Strain
A political feud over a "shadow" climate science service is heating up again. Following months of partisan sparring, Representative Ralph Hall (R-TX), announced yesterday that the House of Representatives Committee on Science, Space, and Technology that he chairs will investigate whether the Obama Administration has ignored Congress and created a centralized climate service within the NOAA… (more)
---
NOAA's Climate Prediction Center: La Niña is Back
September 8, 2011
La Niña, which contributed to extreme weather around the globe during the first half of 2011, has re-emerged in the tropical Pacific Ocean and is forecast to gradually strengthen and continue into winter. Today, forecasters with NOAA's Climate Prediction Center upgraded last month's La Niña Watch to a La Niña Advisory.
NOAA will issue its official winter outlook in mid-October, but La Niña winters often see drier than normal conditions across the southern tier of the United States and wetter than normal conditions in the Pacific Northwest and Ohio Valley…(more)
---
U.S. Has Second Warmest Summer on Record

Texas has warmest summer on record of any state
September 8, 2011
Each dot represents a day where temperatures met or exceeded 100 degrees.
High resolution (Credit: NOAA)
The blistering heat experienced by the nation during August, as well as the June through August months, marks the second warmest summer on record according to scientists at NOAA's National Climatic Data Center (NCDC) in Asheville, N.C. The persistent heat, combined with below-average precipitation across the southern U.S. during August and the three summer months, continued a record-breaking drought across the region.
The average U.S. temperature in August was 75.7 degrees F, which is 3.0 degrees above the long-term (1901-2000) average, while the summertime temperature was 74.5 degrees F, which is 2.4 degrees above average. The warmest August on record for the contiguous United States was 75.8 degrees F in 1983, while its warmest summer on record at 74.6 degrees F occurred in 1936. Precipitation across the nation during August averaged 2.31 inches, 0.29 inches below the long-term average. The nationwide summer precipitation was 1.0 inch below average.
---
Bitterroot Fires Grow, Air Quality Unhealthy
By PERRY BACKUS Ravalli Republic
September 7, 2011
HAMILTON - The elderly, the young and those with asthma or other respiratory diseases need to take care when breathing the air in the Bitterroot Valley. The heavy layer of smoke deposited by fires burning on both sides of the valley is creating a health concern for some. On Wednesday, the Ravalli County Environmental Health Department said air quality had reached the unhealthy category and recommended that everyone limit prolonged exertion outdoors…(more)
---
Volcano CO2 Emissions No Match for Human Activity
Credit: Cyrus Read/U.S. Geological Survey
A popular myth among climate change skeptics is that volcanic emissions of carbon dioxide dwarf those generated by humans. But a new report in today's issue of Eos reveals precisely the opposite: In a mere 2 to 5 days, smokestacks, tailpipes, and other human sources of CO2 spew a year's worth of volcanic emissions of that greenhouse gas. According to the paper, five recent studies suggest that volcanoes worldwide (such as Alaska's Shishaldin, shown) emit, on average, between 130 million and 440 million metric tons of CO2 each year… (more)
---
Mount Rainier Has Lost One-Seventh of Its Ice and Snow – Why?
Credit: Lyn Topinka/USGS
About 14% of the ice and permanent snow atop Washington's Mount Rainier melted in the last 4 decades, a new study suggests. Researchers arrived at that figure by comparing the estimated thicknesses and extents of ice seen in a 1970 aerial survey with those measured by an airborne laser altimeter in 2007 and 2008. All but two of the 28 glaciers and snowfields have thinned and shortened at their lower edges, and the exceptions likely thickened only because large amounts of rock fell upon the ice in recent years and insulated it from warming temperatures…(more)
---
New Meaning to "Blame it on El Niño"
Tensions between the Peruvian government and the rebel group the Shining Path erupted into bloody clashes in 1982–the same year that an El Niño-Southern Oscillation (ENSO) event scoured potato fields across the hilly nation. Doomsayers might see cause and effect, but scientists have so far struggled to connect widespread violence with global climate phenomena. Now, a new study suggests that civil strife is twice as likely to break out in many nations worldwide during El Niño years.
"More and more of the evidence is pointing toward a strong link between adverse weather or adverse climate and political violence in the world's poor regions," says Edward Miguel, an economist at the University of California, Berkeley, who was not involved in this study. "This is an important piece of evidence in that debate…" (more)
---
'Exceptional Drought' Record For United States Set In July
August 1, 2011
By Steve Smith
The percent of contiguous U.S. land area experiencing exceptional drought in July reached the highest levels in the history of the U.S. Drought Monitor, said an official at the National Drought Mitigation Center at the University of Nebraska-Lincoln.
Nearly 12 percent of the contiguous United States fell into the "exceptional" classification during the month, peaking at 11.96 percent on July 12. That level of exceptional drought had never before been seen in the monitor's 12-year history, said Brian Fuchs, UNL assistant geoscientist and climatologist at the NDMC… (more)
---
West Coast Stays Cool in a Blistering Summer
Aug 2, 2011
As the central and eastern parts of the nation have sweltered with record heat this summer, the West Coast has been cool, and at times wet, since June 1.
Temperatures have been on the cool side up and down the Pacific coast due to two main factors: cool air aloft and an eastward shift of the typical summertime high pressure system.
According to Expert Senior Meteorologist Ken Clark, "In a typical year, surface high pressure is centered over the Four Corners by the beginning of August, instead of over Texas and Great Plains as it is currently…" (more)
---
NASA Satellite Tracks Severity of African Drought
May 31, 2011
Surface relative humidity anomalies in percent, during July 2011 compared to the average surface relative humidity over the previous eight years, as measured by the Atmospheric Infrared Sounder (AIRS) instrument on NASA's Aqua spacecraft. The driest areas are shown in oranges and reds. Image credit: NASA/JPL-Caltech
› Larger view
Northeast Africa continues to reel from the effects of the worst drought to strike the region in decades. The arid conditions are contributing to famines that the U.S. Department of State says are affecting more than 11.5 million people, particularly in Somalia, Ethiopia, Kenya and Djibouti. The drought is tied to strong La Nina conditions that prevailed in late 2010 and early 2011. La Nina shifts ocean temperatures and air pressure over the Pacific Ocean, causing effects that ripple through weather patterns around the world. In East Africa, La Nina typically brings drought.
The current dry conditions are illustrated in this new map, created using nine years of data on surface relative humidity from the Atmospheric Infrared Sounder (AIRS) instrument on NASA's Aqua spacecraft. Surface relative humidity measures the percent of water vapor in the air nearest to Earth's surface, where people, animals and plants live.
Scientists at NASA's Jet Propulsion Laboratory, Pasadena, Calif., created a climatology for the region by averaging eight years of July AIRS surface relative humidity data from 2003 through 2010, and then subtracting the result from the AIRS relative humidity data for July 1-18, 2011. Areas shown in greens, yellows, oranges and reds represent regions that are drier in July 2011 than the average of all the previous Julys dating back to 2003. The driest conditions, shown in red, are found in northeast Africa, while large regions throughout the Middle East are moderately dry. Areas in blue were moister in 2011 than in the previously studied years. White areas represent data voids caused primarily by the effects of mountain and highland topography…(more)
---
Drought Intensifies Across Lower Colorado Basin
A prolonged stretch of exceptionally dry weather is causing the drought across Texas and the lower Colorado River basin to intensify.
The nine months from October 2010 through June 2011 have been the driest for that nine-month period in Texas since 1895, when the state began keeping rainfall records. Across most of the Hill Country and the Austin area, rainfall since last October is between 12 and 16 inches below normal. Across the eastern counties of Central Texas and the middle Texas coast, rainfall is running more than 20 inches below normal.
Despite the severely dry conditions, this drought is not as bad as the worst in history – the 10-year drought of the 1940-50s. Lakes Buchanan and Travis are in better condition than they were then, even with the low inflows, increased evaporation and water being used by LCRA customers. LCRA built the lakes in the 1930s and '40s to store water during times of plentiful rain so the region would have a reliable supply during a prolonged drought. That is exactly what is happening now. The lakes are more than 50 percent full and LCRA is confident it can meet the needs of its firm customers, such as cities and industry, through a prolonged and serious drought as bad as the worst one this basin has ever experienced (more)…
---
La Niña's Exit Leaves Climate Forecasts in Limbo
It's what Bill Patzert, a climatologist and oceanographer at NASA's Jet Propulsion Laboratory in Pasadena, Calif., likes to call a "La Nada" – that puzzling period between cycles of the El Niño-Southern Oscillation climate pattern in the Pacific Ocean when sea surface heights in the equatorial Pacific are near average.
The comings and goings of El Niño and La Niña are part of a long-term, evolving state of global climate, for which measurements of sea surface height are a key indicator. For the past three months, since last year's strong La Niña event dissipated, data collected by the U.S.-French Ocean Surface Topography Mission (OSTM)/Jason-2 oceanography satellite have shown that the equatorial Pacific sea surface heights have been stable and near average. Elsewhere, however, the northeastern Pacific Ocean remains quite cool, with sea levels much lower than normal. The presence of cool ocean waters off the U.S. West Coast has also been a factor in this year's cool and foggy spring there… (more)
---
NOAA Scientists Identify Natural Variability as the Cause of 2010 Russian Heat Wave
The deadly Russian heat wave of 2010 was due to a natural atmospheric phenomenon often associated with weather extremes, according to a new study by scientists at NOAA and the Cooperative Institute for Research in Environmental Sciences (CIRES). And while the scientists could not attribute the intensity of this particular heat wave to climate change, they found that extreme heat waves are likely to become increasingly frequent in the region in coming decades.
The research team drew from scientific observations and computer climate models to evaluate the possible roles of natural and human-caused climate influences on the severity of the heat wave. The study was published in Geophysical Research Letters March 9… (more)
---
NOAA Announces July 1 Date for its Release of the New 30-year Period of Record for Climatic Data
June 29, 2011
Statewide changes in annual "normal temperatures" (1981 - 2010 compared to 1971 - 2000).
Download here. (Credit: NOAA)
According to the 1981-2010 normals to be released by NOAA's National Climatic Data Center (NCDC) on July 1, temperatures across the United States were on average, approximately 0.5 degree F warmer than the 1971-2000 time period.
Normals serve as a 30 year baseline average of important climate variables that are used to understand average climate conditions at any location and serve as a consistent point of reference. The new normals update the 30-year averages of climatological variables, including average temperature and precipitation for more than 7,500 locations across the United States. This once-a-decade update will replace the current 1971–2000 normals.
In the continental United States, every state's annual maximum and minimum temperature increased on average. "The climate of the 2000s is about 1.5 degree F warmer than the 1970s, so we would expect the updated 30-year normals to be warmer," said Thomas R. Karl, L.H.D., NCDC director. (more)
---
New Evidence of Drought-prone Pasts May Foretell New York's and Atlanta's Futures
AGU Release No. 11–13
22 March 2011
SANTA FE, N. M. – New York City and Atlanta have both experienced droughts in the past few decades that required them to implement water restrictions and conservation measures. However, a new study of tree-ring data spanning the past 400 years indicates that droughts in those cities and their surrounding regions were typically longer and more frequent centuries ago than they were for most of the 20th century. In addition, recent decades have brought longer drought cycles similar to those prevalent before the mid-1800s. A return to drought patterns of past centuries, the study's authors say, could seriously strain the water resources of both of those densely populated regions.
"We can handle two to three-year droughts, but if three and four and five-year droughts are possible, we're not prepared," says Neil Pederson, a research professor with the Tree Ring Laboratory at Columbia University's Lamont-Doherty Earth Observatory in Palisades, New York, which created the new tree-ring drought records. He adds that the familiar scene in the western U.S. of fights and lawsuits over water "is starting to play out here in the East." … (more)
---
Former UM Researcher Nemani Co-authors Leading Remote-sensing Climate Study
AGU Release No. 11–14
29 March 2011
For Immediate Release
WASHINGTON—A new study has revealed widespread reductions in the greenness of Amazon forests caused by the last year's record-breaking drought.
"The greenness levels of Amazonian vegetation — a measure of its health — decreased dramatically over an area more than three and one-half times the size of Texas and did not recover to normal levels, even after the drought ended in late October 2010," says Liang Xu of Boston University and the study's lead author.
The drought sensitivity of Amazon rainforests is a subject of intense study. Computer models predict that in a changing climate with warmer temperatures and altered rainfall patterns, the ensuing moisture stress could cause some of the rainforests to be replaced by grasslands or woody savannas. This would release the carbon stored in the rotting wood into the atmosphere, and could accelerate global warming. The United Nations' Intergovernmental Panel on Climate Change has warned similar droughts could be more frequent in the Amazon region in the future… (more)
---
Tree Rings Record Changing Snowpack, Research Finds
By BRETT FRENCH Of The Gazette Staff
June 20, 2011
Greg Pederson sees the recent publication of his research on snowpack declines in the West as a prime opportunity to reiterate the difference between climate and weather in this record-setting wet spring.
Pederson, an ecologist with the U.S. Geological Survey in Bozeman, was the lead author of a paper published last week in Science magazine detailing the decline in snowpack observed by examining tree rings from the watersheds of the Columbia, Missouri and Colorado river basins dating back more than 800 years.
His findings: Not only has snowpack declined compared to past climate fluctuations, but there's also been a "decoupling" of precipitation in the Colorado River basin and that of the Northern Rockies.
What this means is the tendency for the north to have high snowpacks when the south is experiencing meager ones, and vice versa, has shifted to declining snowpack across the West. The long-term implications of reduced snowpack in the West, which provides water to an estimated 70 million people in just the three drainages Pederson studied, portends huge challenges for water managers in the future, he said. (more)
---
June 1 Persistent Snowpack Begins to Melt While Remaining Well Above Average
June 8, 2011
For More Information:
Brian Domonkos 406-587-6991
Bozeman
– With continued La Nina-like weather patterns through the month of May 2011, the snowpack of Montana maintained well above average conditions, according to the USDA NRCS.
Below average temperatures have resulted in low snowmelt rates, ultimately allowing seasonal snowpack to remain on the ground, in some locations later than ever before. Typically, more than 50 percent of the automated SNOTEL sites are void of snow at this point in the year.
"Presently, almost three quarters of the automated snow measuring sites in Montana and northern Wyoming still hold considerable snowpack," said Brian Domonkos, NRCS water supply specialist. "In fact, some individual SNOTEL sites, especially the high elevation sites of northern Wyoming, reached this year's maximum snowpack in the last two days of May."
SNOTEL data indicates a significant amount of snow remains in the mountains primed for runoff into streams and rivers, and most basins have yet to reach streamflow peak due to snowmelt (more)
---
2nd Annual Pacific Northwest Climate Science Conference
September 13-14, 2011
University of Washington, Kane Hall
Seattle, Washington
The Second Annual Pacific Northwest Climate Science Conference provides an opportunity to learn about the latest in Pacific Northwest climate change and climate impacts research.
The conference, sponsored by PNW research institutions and federal and state government agencies (see list below), aims to stimulate a place-based (rather than discipline-based) exchange of information about emerging climate, climate impacts, and climate adaptation science in the PNW. The conference will also include time for presentation of emerging policy and management goals, objectives, and information needs related to climate impacts and adaptation. (more…)
---
New NASA Map Reveals Tropical Forest Carbon Storage
05.31.11
Benchmark map of carbon stored in Earth's tropical forests, covering about 2.5 million hectares of forests over more than 75 countries. Image credit: NASA/JPL-Caltech/UCLA/Winrock International/Colorado State University/University of Edinburgh/Applied GeoSolutions/University of Leeds/Agence Nationale des Parcs Nationaux/Wake Forest University/University of Oxford
Full image and caption
PASADENA, Calif. – A NASA-led research team has used a variety of NASA satellite data to create the most precise map ever produced depicting the amount and location of carbon stored in Earth's tropical forests. The data are expected to provide a baseline for ongoing carbon monitoring and research and serve as a useful resource for managing the greenhouse gas carbon dioxide.
The new map, created from ground- and space-based data, shows, for the first time, the distribution of carbon stored in forests across more than 75 tropical countries. Most of that carbon is stored in the extensive forests of Latin America.
"This is a benchmark map that can be used as a basis for comparison in the future when the forest cover and its carbon stock change," said Sassan Saatchi of NASA's Jet Propulsion Laboratory in Pasadena, Calif., who led the research. "The map shows not only the amount of carbon stored in the forest, but also the accuracy of the estimate." The study was published May 30 in the Proceedings of the National Academy of Sciences.
Deforestation and forest degradation contribute 15 to 20 percent of global carbon emissions, and most of that contribution comes from tropical regions. Tropical forests store large amounts of carbon in the wood and roots of their trees. When the trees are cut and decompose or are burned, the carbon is released to the atmosphere.
Previous studies had estimated the carbon stored in forests on local and large scales within a single continent, but there existed no systematic way of looking at all tropical forests. To measure the size of the trees, scientists typically use a ground-based technique, which gives a good estimate of how much carbon they contain. But this technique is limited because the structure of the forest is extremely variable, and the number of ground sites is very limited. (more)
---
NASA Animated Landsat Flood Tracking
Extreme rainfall and heavy snowmelt have combined this spring to bring the Mississippi River roaring beyond its banks. While humans on the ground have scrambled to evacuate, build sandbag walls and taken dramatic measures not seen in decades – blowing levees and opening the Morganza Spillway – satellites have provided a distinct view of the extraordinary extent of the flooding… (more)
---
Researchers Conclude El Ninos Have Come and Gone for Millennia
by Sid Perkins
March 9,2011
A warm period in Earth's past thought to be a possible analog to Earth's climate future wasn't stuck in a permanent El Niño, a new study suggests. Today's El Niños, which cause weather havoc by triggering floods in some regions and droughts in others, are characterized by warmer-than-normal sea-surface temperatures in the tropical Pacific.
Things were steamy back in the middle of the Pliocene epoch, which lasted from 2.8 million to 5.3 million years ago. Global temperatures back then averaged between 2°C and 3°C warmer than today. According to many climate models, that's where we're heading—Earth's temperature, they say, will reach those heights before the end of this century. So scientists often look to this so-called Pliocene warm period for hints about our future climate. At least one study, which used ocean-floor sediment samples to infer sea-surface temperatures in the tropical Pacific during the mid-Pliocene, suggests that the temperature difference between the eastern and western Pacific was much lower than it normally is today, a sign that the climate may have been stuck in a state that resembles today's El Niño… (more)
---
Rising Temperatures Bringing Bigger Floods
If you get the feeling lately that whenever it rains, it pours, blame greenhouse gases. Episodes of intense rainfall are happening more frequently, thanks to human emissions of carbon dioxide, a new study suggests. A companion article marks the first time that researchers have pinned the blame for an extended bout of flooding–the inundations that swamped parts of the United Kingdom in autumn 2000–on those planet-warming gases…(more)
---
Just 5 Questions: A La Niña Like No Other?
02.10.11
By Amber Jenkins,
NASA Global Climate Change Team

1. What is La Niña and why does it matter?
La Niña, "little girl" in Spanish, is the cool part of a naturally-occurring climate cycle called the El Niño/Southern Oscillation. El Niño is the warm part at the other end of that cycle. These shifts are governed, like much of the climate on the planet, by the relationship between winds and ocean surface temperatures. When trade winds, blowing from east to west across the Pacific, are strong, equatorial waters are very cool, signaling the arrival of La Niña. When these winds falter, ocean surface temperatures rise and signal the arrival of the warm sibling, El Niño ("Christ Child" in Spanish). These warm and cool pools expand and linger across much of the tropics for many months, causing dramatic shifts in worldwide temperature and rainfall patterns over both the oceans and continents. These shifts happen every five to seven years and have been around for centuries. (more)
---
NOAA Persistent Drought to Linger Across Southern United States
January 20, 2011
While wet and snowy weather has dominated the western U.S., persistent drought conditions are likely to linger in the Southern Plains and Southeast through mid to late spring, according to NOAA's National Weather Service. La Niña has kept storms and most of their precipitation in the north, leaving the South drier than normal.
"The speed with which the drought developed across the southern United States is rather unusual considering that just last year El Niño dominated the region with abundant precipitation," said Bill Proenza, director of NOAA's National Weather Service southern region. "Then it was as if a switch was flipped during the summer, changing to La Niña conditions"… (more)
---
Not All of the NW US is as Fortunate as Montana

An open letter to La Nina from Washington skiers and boarders
By Larry Schick
What happened?
When we first met in the winter of 1998-1999 you showed us your passion, loyalty and integrity. You gifted us with consistent powder dumpage, producing the world record snowfall at Mt Baker – 1140". Fresh and new, you were an unselfish giver. We saw you started the 1998-99 season with indifference, but your excitement continued to build by February 1999 with dumpage maximus.
We know you are slow to get going. Your past shows you like it here in the Northwest, especially the Cascades, and often bless us with your favors. We like the fact you are predictable and stable. We fell head over heals for you, back then. Your long, soft westerly fetch of moisture and low snow levels seduced us – you fed our powder passions.
We were disappointed when you left for such a long time. Your romance with us faded, but our desires grew while you were gone. We only remembered the good times. We waited patiently for more than a decade for you to come back this strong. We wanted to spend more quality time (powder runs) together. We longed for those consistent powder days of the past, holding onto the memories of long ago – we have faith in you. Last summer, we were thrilled to tell everyone you were returning, coming home to see us -- and we expected great things.
Your wicked, opposite twin, El Nino, attempted to steal our interest, while you were gone. But we remained faithful, eternally dedicated to you. You are reliable and loyal. "EL" was irrational and unpredictable – a real psycho from "H" "E" double toothpicks. But we did get some fantastic powder days early April last season – proving even the unstable can be fun for a short while.
This season, you have flirted with your signature cold and wet ( mountain snow), but you seem disinterested and inconsistent. It's difficult to live with your mixed messages. We felt betrayed when you visited California in December, spreading your holiday powder gifts to those heartless, shallow phonies – they used you. They'll never adore you like we do. Are we not a worthy suitor?
We understand you are getting counseling. We know you are sensitive – but can you get better? ASAP – like, February, which was your most passionate month with us in 1999 . You say it's our problem, our addiction to the "Siren of the Pow". We are not really addicted (never underestimate the power of denial). As you know we go cold turkey every summer, with only the hope and promise of next season -- that is why this is so difficult. We believed and trusted you. This relationship is a two way street, but mainly about us, we both always knew that. We are ready to commit to the deep powder turns, just turn on your goods. Why are you so moody? Talk to us, what's wrong? This is getting weird; let's not end up on Oprah at the end of her final season.
By the way skiing is cheaper, and better than therapy. We might all need some shrink time soon, if you don't give us some attention with your powder love.
Have you changed? Were we expecting far too much? We are not about to give up on you. You have created a decent foundation (snowpack) for a great relationship. We long to dance those floating powder turns, like before – the way we were. (que the soft music) – When will you return? We want our powder fix.
You're breakin' our hearts…
---
Archives: NASA explains Dust Bowl Drought
Dust storm approaching Stratford, Texas. (Credit: NOAA Photo Library, Historic NWS collection)
More dust bowl images
March 18, 2004
NASA scientists have an explanation for one of the worst climatic events in the history of the United States, the "Dust Bowl" drought, which devastated the Great Plains and all but dried up an already depressed American economy in the 1930's.
Siegfried Schubert of NASA's Goddard Space Flight Center, Greenbelt, Md., and colleagues used a computer model developed with modern-era satellite data to look at the climate over the past 100 years. The study found cooler than normal tropical Pacific Ocean surface temperatures combined with warmer tropical Atlantic Ocean temperatures to create conditions in the atmosphere that turned America's breadbasket into a dust bowl from 1931 to 1939. The team's data is in this week's Science magazine. (more)
---
University of Montana Climate Researchers Detect Decade-long Decline in Hemisphere Plant Growth
August 19, 2010
WASHINGTON -- Global plant productivity that once was on the rise with warming temperatures and a lengthened growing season is now on the decline because of regional drought according to a new study of NASA satellite data.
Plant productivity is a measure of the rate of the photosynthesis process that green plants use to convert solar energy, carbon dioxide and water to sugar, oxygen and eventually plant tissue. Compared with a 6 percent increase in plant productivity during the 1980s and 1990s, the decline observed over the last decade is only 1 percent. The shift, however, could impact food security, biofuels and the global carbon cycle. (more)
---
NOAA: 2010 Tied For Warmest Year on Record
January 12, 2011
According to NOAA scientists, 2010 tied with 2005 as the warmest year of the global surface temperature record, beginning in 1880. This was the 34th consecutive year with global temperatures above the 20th century average. For the contiguous United States alone, the 2010 average annual temperature was above normal, resulting in the 23rd warmest year on record.
This preliminary analysis is prepared by scientists at NOAA's National Climatic Data Center in Asheville, N.C., and is part of the suite of climate services NOAA provides government, business and community leaders so they can make informed decisions. (More)
---
Biggest Storm This Season May Be Coming
By SANJAY TALWANI
Independent Record
December 29, 2010
The winter storm reaching its height today may be the biggest of the season, according to the National Weather Service.
The storm is packing a level of moisture more typical of a spring storm, said NWS meteorologist Bob Hoenisch. By Thursday morning, eight to 12 inches are expected over much of northcentral Montana's lower elevations and up to 2 feet in the mountains. That's the moisture equivalent of half to three-quarters of an inch of rain in the valleys and more in the mountains. (more)
---
'Real' Winter Expected for Butte
By Justin Post
The Montana Standard
It's the ideal forecast for Montana outdoors enthusiasts.
We're in for a long, cold winter with plenty of snow predicted for area ski hills.
And with healthy mountain snowpack, next spring and summer will likely present good opportunities for wetting a line as runoff recharges our rivers.
Weather forecasters are predicting an active winter with storms dumping precipitation throughout western Montana, said Peter Felsch, the warning coordination meteorologist with the National Weather Service in Missoula… (More)
---
Ebbing Sunspot Activity Makes Europe Freeze

350 years of data link low solar activity to cold winters
Richard A. Lovett
Periods of low sunspot activity are associated with changes in the winds that tear though the upper atmosphere, bringing unusually cold winters to northern Europe, a new study finds.
The study, published today in Environmental Research Letters, analysed 350 years of temperature data recorded in central England since 1659, comparing it to astronomical observations of sunspots. The research team, led by Mike Lockwood, a solar-terrestrial physicist at the University of Reading, UK, found that after allowing for global climate change, European winters tended to be 0.5 °C colder than average during low-solar-activity years. (more)
---
FEMA Winter 2010-2011 Weather Advisory with Safety Tips
Release Date: October 21, 2010
Release Number: HQ-10-204
WASHINGTON - Today, as the National Oceanic and Atmospheric Administration (NOAA) released its 2010 U.S. Winter Outlook predicting extreme weather patterns for different regions of the country this winter, the Federal Emergency Management Agency (FEMA) is reminding individuals to get ready for winter storms and extreme cold. Americans can find helpful tips and recommendations to help them get prepared at online… (more)
---
NOAA's U.S. Winter Forecast Outlook
October 21, 2010
The Pacific Northwest should brace for a colder and wetter than average winter, while most of the South and Southeast will be warmer and drier than average through February 2011, according to the annual Winter Outlook released today by NOAA's Climate Prediction Center. A moderate to strong La Niña will be the dominant climate factor influencing weather across most of the U.S. this winter.
La Niña is associated with cooler than normal water temperatures in the Equatorial Pacific Ocean, unlike El Niño which is associated with warmer than normal water temperatures. Both of these climate phenomena, which typically occur every 2-5 years, influence weather patterns throughout the world and often lead to extreme weather events. Last winter's El Niño contributed to record-breaking rain and snowfall leading to severe flooding in some parts of the country, with record heat and drought in other parts of the country. Although La Niña is the opposite of El Niño, it also has the potential to bring weather extremes to parts of the nation… (more)
---
Drought Committee Cancels September Meeting as Rainfall Records Fall
9-21-2010
Eve Byron
The official start of the fall season on Thursday is leaving some folks wondering what happened to summer. The year 2010 will be remembered as one of the wettest summers in more than a decade, with below-average temperatures. It's been so wet that officials announced Monday they're canceling Thursday's Drought Advisory Committee meeting in Helena. (more)
---
Cool, Wet Weather Delays Prairie Provinces Hay and Grain Harvest
Dwayne Klassen
9/9/2010
(Resource News International) – Cool temperatures and steady precipitation continue to slow the development of grain and oilseed crops across much of Alberta and in turn, harvest operations, according to a crop specialist with the provincial Ag-Info Centre.
"The only area in which significant harvest progress was being made was in the Peace River district of northern Alberta where conditions have been drier," said Mark Cutts, a crop specialist with the centre at Stettler… (more)
---
University of Washington Climate Impacts Group Newsletter – Summer 2010
The Climate Impacts Group (CIG) issues a quarterly electronic newsletter designed to provide updates on regional climate and climate-related research, meetings, and topics of interest to Pacific Northwest (PNW) decision makers and resource managers. The first newsletter was distributed in January 2005. (more)
---
PNW, Northern Rockies and Great Plains in for Cold, Snowy Winter
The major metropolitan areas of the mid-Atlantic that were pummeled with snow last year will get a break this winter, but that doesn't mean there will be no snow to shovel. In contrast, Chicago, Milwaukee and Minneapolis could be in the heaviest snow zone this upcoming winter… (more)
---
Montana Twisters are More Frequent, Powerful in 2010
By Matt Volz, Associated Press
August 2, 2010
HELENA, Mont. — Tornadoes in Montana this year have been more frequent and more powerful than at any point over the past decade, as evidenced by twisters that destroyed an arena in Billings and killed two people in the state's northeastern corner… (more)
---
World Record Hailstone Weighed in Vivian
By Shawn Neisteadt
Published: July 27, 2010, 5:52 PM

VIVIAN, SD – A small South Dakota town is being recognized for a big find after last Friday's storms. It was Friday afternoon when a line of thunderstorms fired up in central South Dakota. High winds, heavy rains and even a possible tornado rolled through the town of Vivian. But now days later, a hailstone picked up just moments after the storm is getting worldwide attention… (more)
---
Glacier National Park's Glaciers at Peril
July 16, 2010
By Laura Bly, USA TODAY
GLACIER NATIONAL PARK, Mont. — Standing under a cloudless midsummer sky at the Many Glacier Hotel, ranger Bob Schuster gestures toward the saw-toothed southern horizon and holds up evidence of a changing climate in a place indigenous Blackfeet Indians dubbed the "backbone of the world." His repeat photographs show the rapid retreat of the 100-year-old park's iconic geological features, which have declined from about 150 at the end of the Little Ice Age in the mid-19th century to about two dozen today… (more)
---
Fort Peck Reservoir at Highest Content Elevation Since 1997
For the first time in 10 years, the waters of Fort Peck Reservoir have risen high enough to flow into the flood pool.
"That's your final storage amount before you become a pass-through operation," said John Daggett, operations project manager for the Army Corps of Engineers at Fort Peck. "We're still 11 feet below filling our exclusive flood pool." (more)
---
NOAA: Warmest April Global Temperature on Record

Also Warmest January-April
May 17, 2010
The combined global land and ocean surface temperature was the warmest on record for both April and for the period from January-April, according to NOAA. Additionally, last month's average ocean surface temperature was the warmest on record for any April, and the global land surface temperature was the third warmest on record… (more)
---
Effects of El Nino Could be a Factor in 2010 Wildfire Season
In a briefing today to Governor Brian Schweitzer, officials said the El Nino conditions that have left much of western Montana with below-average snowpack could foster a warmer, drier summer and elevate wildfire risks in some areas… (More)
---
NOAA Announces Creation of National Climate Service
Individuals and decision-makers across widely diverse sectors – from agriculture to energy to transportation – are increasingly asking NOAA for information about climate change in order to make the best choices for their families, communities and businesses. To meet the rising tide of these requests, this newly proposed line office would be dedicated to bringing together the agency's strong climate science and service delivery capabilities… (more)
---
Climate Impacts to Wildlife
Released: 3/30/2010 10:52:31 AM
Our nation's fish and wildlife are expected to be significantly impacted now and in the future as the climate continues to fluctuate. New research will help understand future climate conditions and impacts to species and their habitats. Projects include studies of alterations in Florida's ecosystems, potential impacts on Great Lakes' fish, sea-level rise impacts on San Francisco Bay marshes, and the effects of melting glaciers on Alaska's freshwater coastal systems… (more)
---
NRCS Projections for Streamflow Reflect Poor Snowpacks Across the State
March 4, 2010
For More Information:
Roy Kaiser, 406-587-6991
Larry Cooper, 406-587-6842
Bozeman – March 1 mountain snowpack is well below average and below last year at this time. February mountain precipitation was well below average and the fourth month in a row with below to well below average mountain precipitation. February mountain precipitation west of the Divide was 37 percent of average and east of the Divide was 51 percent of average… (more)
---
NOAA: U.S. December Wetter and Colder than Average
January 12, 2010
NOAA's State of the Climate report shows the December 2009 average temperature for the contiguous United States was 30.2 degrees F, which is 3.2 degrees F below average. Last month's average precipitation was 2.88 inches, which is 0.65 inch above the 1901-2000 average… (more)
---
An Information Statement of the American Meteorological Society – Climate Change
The following is an Information Statement intended to provide a trustworthy, objective, and scientifically up-to-date explanation of scientific issues of concern to the public at large.
Background
This statement is consistent with the vast weight of current scientific understanding as expressed in assessments and reports from the Intergovernmental Panel on Climate Change, the U. S. National Academy of Sciences, and the U. S. Climate Change Science Program. All these reports recognize the uncertainties in climate projections, and identify the scientific work needed to reduce those uncertainties. Although the statement has been drafted in the context of concerns in the United States, the underlying issues are inherently global in nature… (more)
---
Cooling Climate of N. America in 2008 Attributed to Cool Pacific Ocean
December 4, 2009
Left side: 1970-2007 trend in annual surface air temperature. Right sid: 2008 annual surface air temperature, shown as a departure from the 1971-2000 climatology.
High resolution (Credit: NOAA)
Cooler North American temperatures in 2008 resulted from a strong natural effect, and the overall warming trend that has been observed since 1970 is likely to resume, according to university and NOAA scientists.
"Our work shows that there can be cold periods, but that does not mean the end of global warming. The recent coolness was caused by transitory natural factors that temporarily masked the human-caused signal," said Judith Perlwitz, lead author of the study and a researcher with the Cooperative Institute for Research Environmental Sciences, and NOAA Earth System Research Laboratory, both in Boulder, Colo. The paper will be published Dec. 8 in Geophysical Research Letters… (more)
---
NOAA: U.S. Posts Third Coolest-Highest Precipitation for October on Record
November 10, 2009
The October 2009 average temperature for the contiguous United States was the third coolest on record for that month according to NOAA's State of the Climate report issued today. Based on data going back to 1895, the monthly National Climatic Data Center analysis is part of the suite of climate services provided by NOAA… (more)
---
Quiet Sun Could Be Behind Smallest Summer Loss of Antarctic Sea Ice Ever Recorded - Cool PDO May Lessen Impact of Current El Nino
By Joe D'Aleo
Monday, October 19, 2009
This week we will do an update on the solar, the polar ice and ENSO.
SOLAR CYCLES 23 AND 24
After a spotless August, a pair of sunspot groups in September led to a monthly sunspot for September of 4.5. After passing off the visible solar disk early on the first, October has returned to spotless conditions again the last week… (more)
---
State of the Global Climate for 2008
The global mean temperature in 2008 was slightly cooler than that in 2007; however, it still ranks within the 10 warmest years on record. Annual mean temperatures were generally well above average in South America, northern and southern Africa, Iceland, Europe, Russia, South Asia, and Australia. In contrast, an exceptional cold outbreak occurred during January across Eurasia and over southern European Russia and southern western Siberia. There has been a general increase in land-surface temperatures and in permafrost temperatures during the last several decades throughout the Arctic region, including increases of 1° to 2°C in the last 30 to 35 years in Russia. Record setting warm summer (JJA) air temperatures were observed throughout Greenland… (more)
---
NOAA: El Niño to Help Steer U.S. Winter Weather
October 15, 2009
El Niño in the central and eastern equatorial Pacific Ocean is expected to be a dominant climate factor that will influence the December through February winter weather in the United States, according to the 2009 Winter Outlook released today by NOAA's Climate Prediction Center. Such seasonal outlooks are part of NOAA's suite of climate services… (more)
---
Strength and Impacts of Current El Nino Challenging to Predict
September 28, 2009
Since May 2009, the tropical Pacific Ocean has switched from a cool pattern of ocean circulation known as La Niña to her warmer sibling, El Niño. This cyclical warming of the ocean waters in the central and eastern tropical Pacific generally occurs every three to seven years, and is linked with changes in the strength of the trade winds. El Niño can affect weather worldwide, including the Atlantic hurricane season, Asian monsoon season and northern hemisphere winter storm season. But while scientists agree that El Niño is back, there's less consensus about its future strength… (more)
---
2004 Pacific Decadal Oscillation NASA JPL Article Foretells Current California Drought
January 28, 2004
The cooler and drier conditions in Southern California over the last few years appear to be a direct result of a long-term ocean pattern known as the Pacific Decadal Oscillation, according to research presented recently at the 2004 meeting of the American Meteorological Society… (more)
---
Monday Rain More Than Doubles July Precipitation
By MARTIN J. KIDSTON - Independent Record - 07/28/09
A welcome July rain dampened a wide swath of Montana early Monday, helping stave off a fire season that just last week had taken an active turn… (more)
---
El Niño Arrives; Expected to Persist Through Winter 2009-10
July 9, 2009
NOAA scientists today announced the arrival of El Niño, a climate phenomenon with a significant influence on global weather, ocean conditions and marine fisheries. El Niño, the periodic warming of central and eastern tropical Pacific waters, occurs on average every two to five years and typically lasts about 12 months… (more)
---
Climate Change Not Black-and-white Issue
Climate change. It is a topic with political, social and economic implications far beyond the scope of this column. In spite of the emotion that this subject often generates, this month I decided to offer my two cents – so here goes… (more)
---
El Niño/Southern Oscillation (ENSO)

Diagnostic discussion
Climate Prediction Center/NCEP/NWS
May 7, 2009
ENSO-neutral conditions are expected to continue into the Northern Hemisphere Summer… (more)
---
Average Snowpack Near 100 Percent or Above
By EVE BYRON
- Independent Record 04/17/09
Montana is heading into the summer with a strong snowpack, reservoirs expected to be full or near capacity, and good soil moistures, according to reports Thursday morning to the Governor's Drought Advisory Committee… (more)
---
Deep Solar Minimum
April 1, 2009:
The sunspot cycle is behaving a little like the stock market. Just when you think it has hit bottom, it goes even lower. 2008 was a bear. There were no sunspots observed on 266 of the year's 366 days (73%). To find a year with more blank suns, you have to go all the way back to 1913, which had 311 spotless days: plot. Prompted by these numbers, some observers suggested that the solar cycle had hit bottom in 2008… (more)
---
NOAA's National Climate Data Center Considers Redefining "Normal" Periods of Record
by Bob Henson
March 2009
Climate was once viewed as being more or less stationary, with 30-year averages serving as an accepted guide to the future. Yet most of the United States has warmed significantly since the 1970s. And despite some intense regional droughts, large parts of the nation are considerably wetter on average than they were three decades ago… (more)
---
New Guide Aims to Improve Public Climate Literacy
March 18, 2009
A guide is now available to help individuals of all ages understand how climate influences them — and how they influence climate. A product of the U.S. Climate Change Science Program, it was compiled by an interagency group led by NOAA… (more)
---
Abrupt Climate Change – U.S. Climate Change Science Program
A large-scale change in the climate system that takes place over a few decades or less, persists (or is anticipated to persist) for at least a few decades, and causes substantial disruptions in human and natural systems… (more)
---
Humans, Oceans Shaped North American Climate over Past 50 Years

Sea-surface temperatures vital to predicting U.S. regional climate changes
December 11, 2008
Greenhouse gases play an important role in North American climate, but differences in regional ocean temperatures may hold a key to predicting future U.S. regional climate changes, according to a new NOAA-led scientific assessment. The assessment is one in a series of synthesis and assessment reports coordinated by the U.S. Climate Change Science Program… (more)